Days 7-8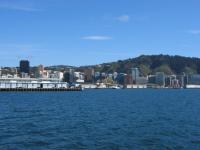 My last stop of this trip was Wellington, which is New Zealand's capital and is situated on the southern tip of the North Island. The drive from Napier to Wellington was the longest of the trip. I don't really like marathon drives, even through scenic country, but this one went fine and the time flew by (thank you, iPod). I arrived at the Wellington CBD in the early evening and quickly found the YHA.
The Wellington YHA was fantastic, probably comparable to the Melbourne YHA. The common rooms were buzzing with people and it was easy to meet others. In the TV area the group wisely chose to put on The Sopranos (2 weeks left to the season here), and right across the road was a grocery/liquor store to complement the extensive kitchen areas. If you get a chance to stay in a 4/5 star YHA I'd highly recommend it, as it's much more enjoyable that a hotel. (On the other hand, some of the dodgy hostels are quite a bit less enjoyable for sure.)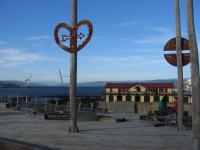 Wellington is a really cool city, and I'd say it's the highlight of the trip. I cannot really put my finger on why it appealed to me–I think it was just a combination of a lot of little things. For starters, it is situated around harbor which really defines the city. It's a good sized harbor that accommodates the port traffic but it's small enough that you can walk from one side to the other is a reasonable time. Many major attractions are located on the water front, most prominent being the New Zealand National Museam "Te Papa". It seems like no matter were I was heading I wouldn't be far from the water.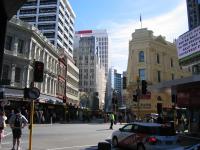 The size of Wellington was good too. Larger than Christchurch, it presents an impressive skyline, and the CBD is really bustling with people. I think a lot of that traffic is due to the government activities. But unlike some really huge metropolises, you can walk around most of the city in a reasonable amount of time. Given that there is very limited public parking, that trait was useful.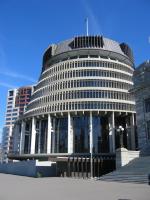 Most of what I did was fairly studious. I walked over to the parliament building and took the tour of the "Beehive" and parliament house. Good tour. I'm always interested in how stuff does or doesn't get done in large organizations like that, and our tour guide–who has apparently worked there in some capacity forever–had all sorts of interesting stories about rules, protocol, bizarre conventions, and how legislators really behave. There was a fair bit of building history too since there have been various fires and earthquakes that have done serious damage. The parliament and ugly-as-sin Beehive building are built on special isolators to protect them from earthquakes. So was Te Papa. Evidently these isolators were invented by a Kiwi and are now used worldwide. I found the explanation of how they sliced into the existing founding to insert the isolators fascinating.
I spent a fair bit of time in the Wellington City and Sea museum. Te Papa dwarfs it (and everything else) in size, but I thought the WCS was an excellent museum with a concise set of exhibits you could work through in a couple hours. The focus was on Wellington history and shipping in the area, and the detail was exceptional. I probably read more of the information placards in that museum than I ever have. My favorite had to do with the "Battle of Manners Street", and incident in 1943 when New Zealand troops fought some US Marines temporarily stationed in Wellington. From the placard:
"… Better paid than the NZ troops, the Americans were often given preference in shops and restaurants. To make matters worse local women were also attracted by the Americans' courtesy and sophistication, qualities they sometimes found lacking in local men. It was the sight of New Zealand women falling into American arms that was as much the cause of the Batter of Manners St. as any alleged racism. As New Zealanders frequently observed at the time, the Yanks were 'overpaid, oversexed and over here'."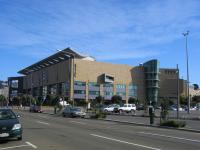 By comparison, Te Papa was a bit of a disappointment. There was nothing wrong with it per se, and a number of the exhibits were interesting, but the WCS museum had a real charm, whereas Te Papa felt just like any other huge museum I'd been to.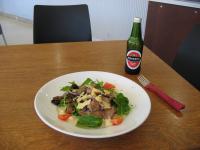 One highlight was lunch at the museum's cafe: I ordered a delicious lamb gnocchi with sauteed mushrooms in a blue cheese sauce. Suffice to say, not the type of food I remember getting at the Museum of Science and Industry cafeteria as a kid!
In summary, high marks for Wellington, and high marks for the trip. It was good to take a week off from work, and I'm glad I finally got to see a bit of the North Island.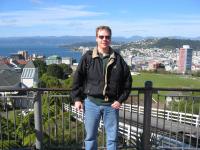 2 Responses to "Wellington"
Good update Jim. Glad to hear you enjoyed our nation's capital. You've inspired me to take the same Beehive tour you took next time I grace the city with my presence.

As for the "Battle of Manners Street", well, working at CTCT I can't really observe too many disparities in the analogy.

Overpaid, over here… and over-worked for sure! It's been a pleasure having you here mate!

(couldn't resist the plug)

Jim, Thank your other "commenter" for the link to Ron Paul – maybe now I can find out who in blazes you were refering to – good to get a chance to increase myy knowledge of the great U S of A – see you for tea tomorrow night. Ciao