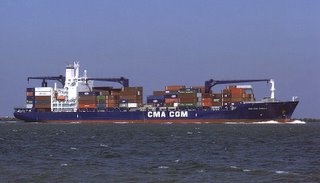 The French "Utrillo" will carry our container from Norfolk to Auckland from 13 Jan -> 03 Feb. I'm not sure how the stuff will then get to Christchurch, but that will take until 11 Feb.
For those interested in such things, the full route for this ship that just keeps going around the world is copied below. You can ride along (in a fairly nice cabin, not container) on the 84-day journey for about $13,000.
Utrillo Itinerary
Tilbury, UK; Rotterdam, Holland; Hamburg, Germany; Le Havre, France; New York, NY, Norfolk, VA and Savannah, GA, USA; Manzanillo, Panama; transit the Panama Canal; Pepeete, Tahiti; Auckland, New Zealand; Noumea, New Caledonia; Sydney, Melbourne, Adelaide and Fremantle, Australia; Singapore; Jeddah, Saudi Arabia; transit the Suez Canal; Damietta, Egypt; Malta; La Spezia, Italy and back to Northern Europe
2 Responses to "Go the Utrillo!"
so, were you scared we were going to read your blog, Jim? You didn't tell your friends about the wonderful New Years Eve function you went to hosted by your new nextdoor neighbours!! Fortunately we don't take offence – but people, we welcomed Jim to Christchurch on NY eve, and found him to be delightful and with a great sense of humour – both needed to survive in this small city! Welcome, Jim and we ook forward to meeting you, Angela

Hello juniorwashbourn,
I am looking forward to moving to Christchurch. I have 2 more days in Penang, Malaysia before I head to Singapore and then to NZ. I heard much about the little New Years Eve function and about Jim showing up hungry :). He was thankful for the hearty meal. I look forward to meeting my new neighbors. Oh by the way I notice that I will have to learn to spell in British English again (ie. neighbours instead of neighbors).