I'm happy to say I've rung in the new year in the house. Chris had the good idea to just go and rent some furniture, so we rented a trailer and got things moved in Friday night. With a bed,table, TV and internet I'm pretty much set! On Friday night we had a beautiful sunset, and here's a snapshot from the 2nd floor of the house: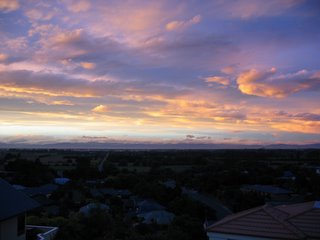 One Response to "A room with a view"
#

Anonymous

on 01 Jan 2006 at 3:59 pm

Happy New Year from Morton! It's 9pm here, and us light weights will probably not make it up till midnight. Glad to hear you made it okay. … Andy S.