It's a matter of hours now. By this time tomorrow I'll be in Auckland waiting to board a plane back to the States.
This blog has been quiet for the past couple of week since there hasn't been much worth writing. There have been a million little errands that go along with emigrating, and the remainder of the time has been largely taken up by unrelenting work. I've made a point of visiting friends and having some of my favorite NZ foods, but my North Island trip really wrapped up NZ in my mind.
This past weekend has been noteworthy, however. I had my going away party on Friday after work and it was a fantastic turnout. The weather, venue, and of course people made it a really good send-off. The following day I visited friends in a rural area about 45 minutes from Christchurch, and it was good to wind down with pleasant company in a nice relaxing environment.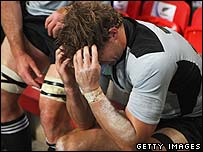 This morning (Sunday) was pretty dramatic. Most of the country was awake early to watch the All Blacks play France in the WRC quarter finals. The ABs lost–again. This is a gutted nation. Since I've been here I've heard about the WRC. Not only is rugby the nation's game, but they've dominated for so long yet only once, 20 years ago, won the top prize. It was an emotional farewell as the ABs left for France at the start of the WRC, but there was also an almost palpable worry at the prospect of failing again, despite being huge favorites. Now their fears are realized and it's not very pretty. Already there is some pretty nasty rhetoric and finger pointing. "..the result confirmed New Zealand's status as 'world-class chokers'", and that was from the British press! The NZ media will probably be worse.
I feel bad for one couple interviewed on TV who are just now departing for France and have tickets to the semis, finals, and 3rd place game as a backup. The ABs will be back in NZ by that time. And I'll be back in the US. I was fully expecting to watch the ABs in the US for a few more weeks, but it's not to be. (The only minor consolation that NZ has that the Aussies were also upset–by England.)