by Angela
on Jun 4th, 2007
My mum visited us in New Zealand from May 20th to Jun 03rd. My sisters and I are so proud of her because she managed to travel on her own to an English speaking country. It may seem like a little thing to us but for a 63 year old lady it can get quite intimidating. Lena reminded her not to bring and food (dry) for me because if the inspection dog barks at her bag, she might not know how to explain what's inside. So she brought nothing but her clothes. To her very disappointment when she arrive at the airport; the dog was no where in sight. She kept saying if she had known that she would have brought a few things from home that I loved. That's mum you see.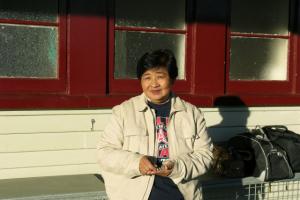 Well, I showed her around Christchurch especially the flower gardens since she loved gardening. It is not the best time for botanical gardens since it is Fall going to Winter but it did not matter to her as long as there are still flowers on the bushes. She found fuchsias very attractive, unfortunately it will not grow in the 30C and 100% humidity of Malaysia. After the visit to the gardens she has renewed interest to do something about her garden at home.
I wanted to show mum a few of the sights that I feel every person visiting NZ should see. Jim and I attempted to see the Whale from Kaikoura but failed to get on the cruise each time. The first time, the sea was too choppy and it was canceled and the second time, the cruise was fully book. My mum and I rode the TranzCoastal train to Kaikoura and booked ourselves for the tour. She has little idea what a whale is but know that it is very big (not knowing exactly how big). The weather on the day of the cruise was perfect, calm waters and clear skies.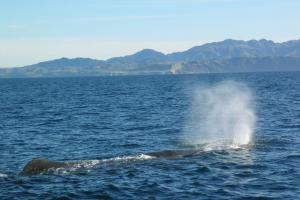 On the cruise we spotted two sperm whale. The bigger of the two was 18.5 meters long. I can't really explain what it's like seeing the biggest mammals in the world…. you'll just have to use your imagination. Mum was just having a ball, saying she never ever imagined it would be that big. Just the smile on her face as she held on the rail on the front of the boat says it all. We also saw a huge shoal of dusky dolphins, about 500 to 600 of them just playing in the water and doing acrobats. It was quite a sight.
On the following week I took mum to Auckland and Rotorua. We didn't not spent much time in Auckland other than to visit the Auckland Museum. After Auckland, we drove to Hamilton in the middle of the night. Mum was not happy that the highways were just two lanes and without lighting. It was just an hour drive so it wasn't too bad for me. We reached Hamilton and checkin to the hotel. Upon checking in to the hotel, we were given a bottle of red wine. We kept the wine for Jim since neither of us drink. The next morning we drove 2 hours to Rotorua. Rotorua is place where there are a lot of geothermal activities. Rotorua, I believe means "Ring of Fire" in Maori.
As we entered Rotorua, we could see steam just rising from holes in the ground. This I don't mean as in a special park. You see it from most openings in the ground. It's quite surreal. I raced to Wai-o-tapu so that mum can see the Lady Knox geyser go off at around 10am. We made it and it was awesome. Mum sat and watch for 30minutes until the water shooting out was about done.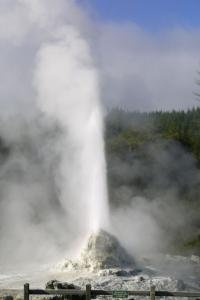 Then we walked all over the park, visiting sulphur caves, mud pools, other pools with orangey stuff all over, and steam coming out of any openings in the ground. All the lakes had within the park are hot spring pools. The only down side to Rotorua and cannot be faulted is the smell of rotten eggs :-). The smell comes from sulphur. It smells like rotten eggs in most of the places there. I am guaranteed there are no snakes around here. Mum and I walked many hours in Rotorua to see all the different sites. The next morning, mom said gosh it stinks around here 🙂 LOL.
The two weeks flew by very quickly. I had a wonderful time travelling with my mum. She does a lot of funny things which makes the trip even more interesting. I'm so glad I had the opportunity to show her around New Zealand. She had always wanted to see NZ.
3 Responses to "Mum's visit to NZ"
#

Erin

on 04 Jun 2007 at 12:49 pm

I LOVED this blog! I loved hearing about your adventures and your mom's reactions and excitement about the sites. We could all take a lesson from her to be more open to new experiences… and to look on the bright side of things (i.e. "as long as there are flowers on the bushes").

Lovely!

#

Angela

on 05 Jun 2007 at 5:11 pm

Thanks Erin. I had a great time traveling with my mom. I hope you and your mum will have as much fun in Hawaii. Cherish the moment.

#

Erin

on 05 Jun 2007 at 5:54 pm

Mom wants to kayak down a river! I think we are going to try it!