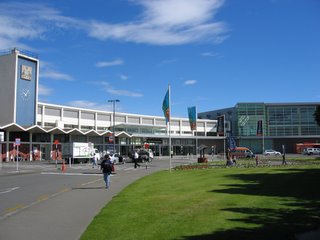 Almost everything arrived in Christchurch in reasonably good shape, including me. One piece of luggage didn't fare very well, but it was of the nearly disposable variety (5 pieces for $79) and at least it stayed shut. No problems claiming baggage or the car, and I was greeted with a beautiful warm day to boot!
The motel is clean and functional, but having just left a hotel I'm not thrilled about more temporary housing. I'm basically stuck here until the essential supplies show up in the air shipment.
I closed out the evening at xmas party hosted by Mark Nichols, the CTCT general manager. It was nice seeing everyone again, but being a bit jet dazed made it hard to mingle with 50 people.
I now have a cell phone that works here.