Sorry, we've been a bit slack with our blogging of late. The closest thing to a real reason would be a work trip to the US, but even that's a poor excuse. We'll try to do better…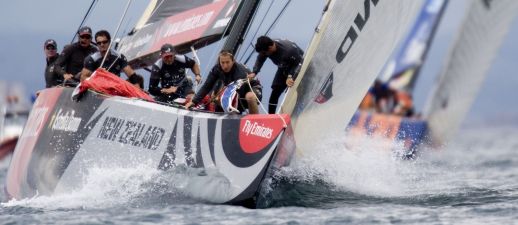 The big sports event for NZ this year will be the rugby world cup which starts in October. Until then there are the normal little tournaments for rugby, netball, and international cricket, but the past month has also had a lot of coverage of the America's Cup. I must admit I knew very little about the Cup until the heavy media coverage here piqued my interest. A brief look at the AC time line and it's pretty obvious that America's Cup was rightly named, but that we've sure slacked off of late. Team New Zealand on the other hand has done very well, and their skippers and tacticians are sought after by all of the top crews. They're just now starting the final series of the Louis Vuitton cup (the winner of which challenges the holder of the America's Cup), and Team New Zealand is facing Luna Rossa from Italy. The first race is tonight and I'll be watching… at 1am 🙁 . I've sailed once in my life and know next to nothing about ships and nautical racing, but for whatever reason this competition has held my interest. If I had to guess, it would be that Team New Zealand–with just fraction of the bankrolls behind the BMW/Oracle and Alinghi 'syndicates'–is doing quite well based on talent and a bit of luck. So go check out the flashy America's Cup website, learn a bit, and root for Team NZ!
Update: Team NZ wins, up 1-0 (best of 9)
---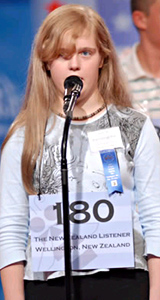 One more update for today since there's been such a drought of posts. A very cute story in the past day has been local Christchurch girl's recent success at the Scripps National Spelling Bee in Washington DC. 13-year-old Kate Weir made it through the fourth round–into the top 60–before stumbling on "jardiniere". An interesting twist is that the judges have had a hell of a time understanding her NZ accent, since to the American ear the NZ "a" and "e" sound very similar. TV3 has a video of the final word and subsequent judge's deliberation, this time whether she was saying "j" or "g". It sounded pretty obvious to me, but my ears have been recalibrated down here so it probably should. Whereas 99.99% of Americans probably couldn't tell you who won the bee (do you know?), this young lady who made it "only" into the top 60 is something of a celebrity here, with the media beating down her hotel door in Washington, and lunch invites coming from the NZ Ambassador. Good on her. (The judges wouldn't have gotten that one either.)
One Response to "The NZ Elite Compete"
#

Erin

on 02 Jun 2007 at 5:48 pm

i watched the video. i could understand all the letters except the first one too. 🙂 when i read your blog I thought you meant that pickled hot pepper thing dad likes to it. hee hee.