by Angela
on Apr 2nd, 2007
Thought I share these pictures with you!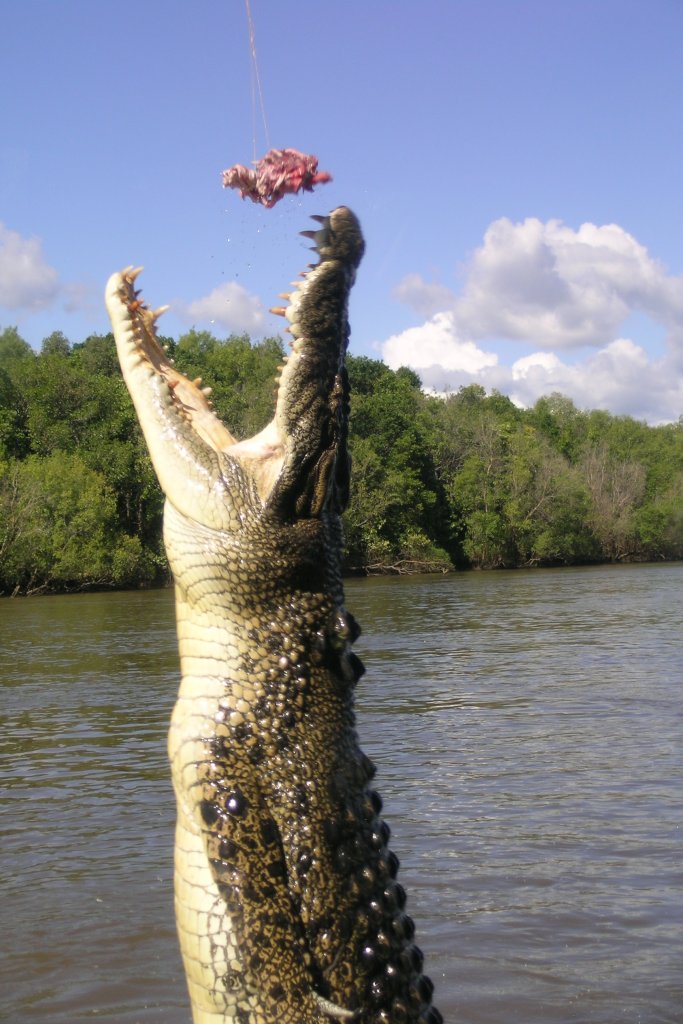 Swimming in Adelaide River,… anyone?????
Day 1:
I landed at Darwin airport and my first impression was I have returned home to Penang, Malaysia.  This is just as I exit the plane walking through the little walkway from the plane to the airport.  It was just as humid and hot.  The raining season is now just tapering off.  I hopped on an airport shuttle and I'm off to Darwin CBD.
Day 2:
I booked on AATKings again for my trip to Kakadu National Park, the biggest national park in Australia.  As in Alice Springs, the coach was at the hotel for pickup at 6:20am.  So here we go again.   The drive from CBD to Kakadu took almost 5 hours one way. I later found out that we had to take the longer route because the usual route had a bridge that was washed out by rain after withstanding two cyclones. 
At Kakadu, there were only two stops.  First stop was a boat ride on the billabong.  Again, folks a lesson that i should have learned from my past visits to National Parks.  To see animals, do not go during raining season and flood season.  There wasn't any animals in sight other than birds.  The billabong was at least 2m higher than normal.  Not a croc in sight!!!  The mangroves were underwater and only the tops of the tree was visible.  The pandanus, river gums and other brushes were visible but most others were submerged.  I saw a couple of sea eagles and its nest, kites, a jabiru (stork), kingfisher,  cockatoos and that's about it.
Next stop: Nourlangie Rock.  Well, the Nourlangie rocks are mountain face that has ancient aboriginal rock art drawn many thousands of years ago (no exact date was given).  I think if I recall correctly it dates back to the stoneage.  The drawings showed pictures depicting gods, rules of life, sex, and procreation laws.  It is said there are more pictures hidden in the caves but is not accesible to non aboriginal people.  I am glad that it is that way,  hopefully these will be preserved for years to come. 
My conclusion was, I should have stayed at the National Park.  I hardly scratched the surface of what the park had to offer.  Oh well, maybe next time. 
Day 3
Well, I was not at all satisfied yesterday since I did not get to see a single estuarine or saltwater crocodile.  I went over to the tour desk and book myself onto a "Jumping Crocodile" tour.  There I know I would get to see more than enough crocodiles.  Well,  the tour did not fail me.  The pictures posted above were from the tour.  All going for the tour were basically packed into a boat with a lower and upper deck. We were slowly taken to the middle of Adelaide river.  This is not a crocodile farm.  It is simply just a river with plenty of crocs (nice to know huh???).  As soon as the boat was situated in the middle, I can see crocs swimming towards the boat.  I  must say crocs just look nasty,  like a shark.  The just have this look of terror.  It is uncommon for crocs to jump and reach for food.  Anyway, the meat was the lure and there were enough crocodiles swimming towards the boat for an easy meal.  I really enjoyed this tour.  The guide again was an older gentlement who had a bagful of stories to tell.  He also stopped at the Fogg Dam on the way to Adelaide river just so we can have a look around and it was splendid. 
Day 4
Visit to Katherine Gorge and Edith Falls.