by Angela
on Apr 2nd, 2007
Day 1: Alice Springs
visited: Royal Flying Doctor Service, School on tthe Air (Distance education for children living in cattle stations all over northern teritory, Alice Springs Telegraph Station (connecting Adelaide Telegraph station to Darwin and the over a sub to Indonesia), Reptile Center (I received a kiss on the cheek from a Blue Tongue Lizard…. eeuwwwh!).
Day 2: Alice Springs : West MacDonnell Ranges
Visited: Standley Chasm, Simpsons Gap, Ellery's Creek, Ormiston Gorge (hiked up to the Ghost Gum lookout and look over the waterhole. Beautiful scenery. I will post pictures. All stops for the day were just gorgeous; I hope my pictures will do it justice. It had just rained the night before and the waterhole and the streams were filled with water. This is quite rare in Alice Springs which is a semi arid dessert. Even the tour guide who lives in Alice Springs took out his camera to take some pictures. I met a Aussie/German older lady and a couple from the UK (I mentioned this because they are also with me for the next three days).
Day 3: Alice Springs to Ayers Rock (Yulara)
The coach came by and picked me up from the Alice Plaza at 7:05am and we set off to Ayers Rock (Yulara). The driving took about 5 hours because of stops. Our first stop it at Stuarts Well which is a cattle station. There is a small yard of animals there. They offer a camel ride for AUD$5. I was quite keen on having a camel ride (just to compare to my elephant ride in India). So I handed my 5 bucks to the rancher. He asked where I was from and I replied "Malaysia". He gave me a funny look and exclaimed "A malaysian with canadian accent???". Funny :), this guy looks completely like a cowboy and he said that in true Aussie accent. So I had a little explaination to do and after that all is clear. Well, folks the camel ride was great. Very bumpy when the camel decided to go on a fast trot. My camera almost flew off my neck and I was to afraid to let go of the handle on the saddle. I decided I'd sacrifice the camera first before I sacrifice myself falling from a camel. Alls well ends well. I got off the camel safely, the Aussie rancher took a picture of me on the camel and i will post it soon.
We continued on towards Ayers rock, stop for morning tea, and some lookout stops. We passed Atila (Mt Conner-not part of the National Park since it is under a 99 year lease still), and then started seeing Uluru (Ayer's Rock) and Kata Tjuta. We arrived at about 1:30pm.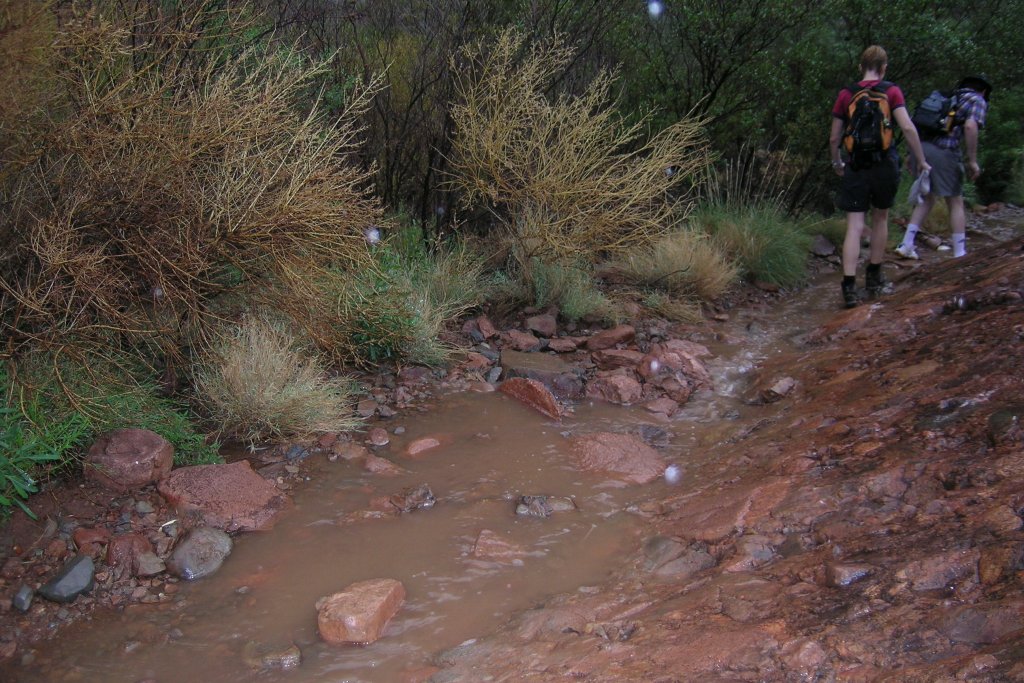 At about 3pm we started off from the resort and were driven to the base of Kata Tjuta. The sky was getting cloudy. A bunch of us decided to do the hike around one of the smaller rock mount (should take 30minutes one way). We headed off, and before we knew it the sky turned dark and started to pour. Miss Smarty here decided to leave her rain coat on the coach because she decided it was too heavy to carry and thought that it would not rain in the middle of the dessert. Wrong!!!!.. I dug into my back pack to see what I could use to protect my camera. I found my light weight umbrella. Ever seen anyone hiking a mountain face with an umbrella?? Well, let me tell you that it is utterly ridiculous and probably dangerous. Well, for the sake of my pictures I decided I would use it anyway. By the time we got up to the top, the group was starring at me, the lady with the black umbrella :-). I saw them waiting for me up top to give me grief. Upon reaching the top, I smiled at them and gave them a curtsy ;-). They still gave me a little grief but all in good fun. Due to the rain the whole track turned into flowing streams. Water was flowing down from the face of the rocks. I was drench from waist down and my shoes were soaked. Still it was really quite an adventure. We did not get to see the sunset or have the barbeque out at Kata Tjuta. We stopped at a shelter and had a glass of champagne and then headed back to the hotel for our free buffet dinner (replacement to our Kata Tjuta barbecue). It was a long night but quite enjoyable.
Day 4: Kata Tjuta & Uluru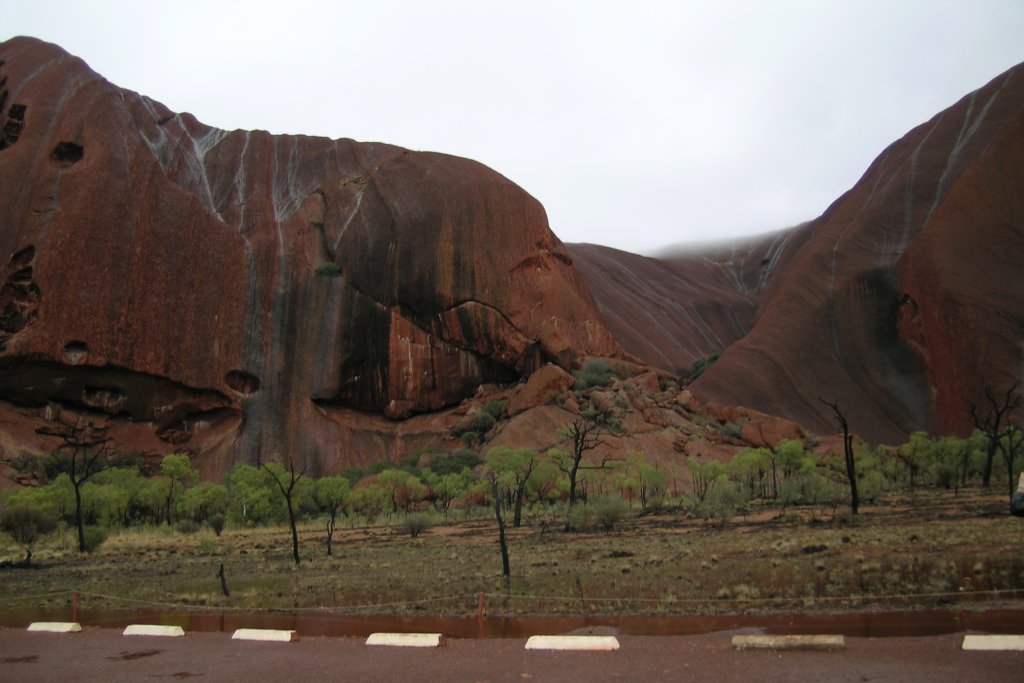 Well folks, it continued raining overnight. I woke up at 5am for sunrise at Uluru (formely known as Ayer's Rock). We were driven to Uluru but there were thick clouds in the sky. We did not see the sunrise over the horizon because it was too misty and cloudy. I walked around base of Uluru. I was quite surprise that Uluru is not as smooth a surface as I expected. As a matter a fact portions of the face had deep holes and dips. Granted it is just a rock but it is still quite impressive. Walking around the base of it is 9.2km. It rain the whole day there so I have no good pictures at all but pictures would not have justified Uluru.
Day 5: Kings Canyon
Cancelled due to rain. Water over creek leading towards Kings Canyon rose 1.8m overnight. Got a call from reception at midnight to say that I did not have to wake up at 4am since the tour was cancelled. I woke up at 5:30am anyway and went to ask the receptionist if I really got the call or I dreamed of it ;-). Anyway, I walked up to a lookout and looked towards Uluru. The sunrise was magnificent, just standing up on the lookout is quite peaceful and the air in the dessert is so fresh. I stayed and watched the sunrise with just a few people.
Day 6: Alice Springs
1/2 Cultural tour of the Aborignal Heritage.
2 Responses to "OExp: Alice Springs & Ayers Rock"
#

Erin

on 03 Apr 2007 at 1:21 pm

I love the updates. Keep them coming. Are you traveling along again?

#

Erin

on 03 Apr 2007 at 1:22 pm

oops- I meant 'ALONE' not along.