by Angela
on Feb 14th, 2007
It's finally sunny in Christchurch! It's a high of 67F and the sun is finally peeking through the clouds. Whohoo!!. This is my third day of early retirement. I've been waiting for a sunny day to go out cycling.
As soon as I saw blue skies this morning, I put on my running pants, long sleeve shirt (the UV here is crazy), sun glasses, running shoes and cycling hat and off I go. I was heading to Halswell Quarry, its about 8 miles from the house.
As soon as I got down the hill from our house, I met about 30 cyclist. They were all in full cycling gear and on their racing bikes. As I turned onto the main road, I was ahead of them. I cycled hard on my mountain bike, in about 1 minute I started hearing people behind me and 30 seconds later one after another pass me by without any effort. They were courteous and wished me a good morning as they go by. I soon realized, these 30 cyclist were true retirees who were at least in their 50s!. They are fit, about 10x fitter than me. They have the look of being able to drop their bikes and run a full marathon right there and then. Many asked me to hopped on to the end of the group, little did they know this young doe cannot keep up even if she wanted to. After 3 minutes they were over the hill and out of my sight, oh … just as well :-).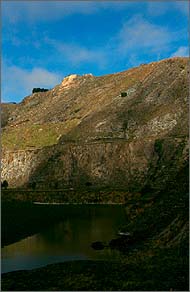 I reached Halswell never the less, with my pride a little jaded but keen to carry on my walk around the quarry. It was a beautiful morning. I finished my walk and cycled home; this time without the company of "tour de France" ;-).
4 Responses to "Sunshine in Christchurch!"