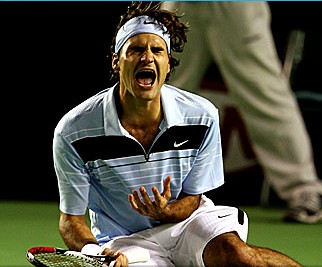 Well the Australian Open tennis tournament wrapped up this weekend, bringing to an end a very enjoyable two weeks of sports TV. We don't watch much TV in the first place, and the last time I watched this much consecutive sport was probably the 1988 Summer Olympics. I don't recall the Australian Open being a big deal in the US, for obvious seasonal reasons, but it competes against the cricket pretty well here in NZ. I have to say the coverage was very good, save for the inane post-match interviews by Jim Courier. Few commercials, sparse commentary, and the very cool Hawkeye replays were all appreciated. Our SKY TV is serving us well.
In the tennis spirit, we recently (last Dec) joined the Cashmere Tennis Club. Sounds pretty ritzy but the price was right at only $280 NZD total for the year–much less than anything we'd find in Peoria, if anything could be found. So we're slowly getting into tennis shape by just hitting around and playing in the recreational doubles games.
In other sporting news, I was suckered into signing up for a marathon relay. Sure, the Buller Gorge Marathon offers one of the most scenic courses anywhere, but I'm far from comfortable with even the 10K I've signed up for. Add to it that I fly back from Japan the day before… hmmm. Oh well. As my Japanese colleague suggested in his Japanese-English: "Maybe you will die". If you never see another post from me, you can assume something went wrong 🙂
2 Responses to "The Agony of Victory"
#

Christian

on 03 Feb 2007 at 3:13 am

Ahhh, the country club. So, do you meet in the study after a game of tennis to sip cognac and tea? 😉
Just kidding….

Countdown in Peoria is ticking… less than 48hrs to go.

#

Jim

on 03 Feb 2007 at 8:01 am

48 hours… Have you got the Boston blog set up yet?